Personalized Programs
YOU ARE UNIQUE!


There are countless diet books and so-called experts recommending the "ultimate diet". It's confusing. And if you've tried following their advice either you didn't lose weight or you gained it all back. Sound familiar? The trouble with all these diets is they aren't designed with YOU in mind!

At Optimal Weight & Wellness Medical Centers, each of our patients is treated like the unique individual you are. Before we prescribe a treatment plan for you, we do a thorough medical and lifestyle evaluation so that the food and medication routine we design for you will meet your particular needs.

We design a Program that's right for you!


We perform a thorough evaluation of your medical and family history, a physical examination, and lab work to screen for any medicalissues. Many of our patients have underlying medical problems that are contributing to their weight problem,and they didn't even know it. Pre-diabetes, thyroid problems, and sleep disturbances are quite common in the patients who consult with us. Once those problems are addressed, it makes losing weight much easier.

We also take a detailed look at many aspects of your lifestyle, including your past weight-loss experiences, to identify issues that are playing a part in your struggle to lose or maintain weight. We may particular attention to those issues during weight loss and so that while you are losing weight, you're also starting reinforce those issues that will help you keep that weight off during maintenance!

We meet with our patients often (weekly with new patients, ideally) so that we can guide and your progress, work with any difficulties and make adjustments in your plan when necessary. During your visits we also provide support, encouragement, and monitor any medical issues. We work as a team to help you achieve your weight loss goals in a professional environment with experts who have your health and safety as their top priority.

What about medications that help with appetite?


Appetite suppressant medications have been used for decades to assist patients who are cutting back calories in order to lose weight. Food plans that are more restrictive and offer more rapid weight loss can be much more easily adhered to if patients are using appetite suppressant medications (although many people do just fine without them). Most of our patients are good candidates for being able to safely use these medications. When you have your free consultation, or your first visit, ask about whether you should consider using these medications as part of your weight loss plan.

These medications help with both hunger and cravings, and are remarkably safe when used under medical supervision. We also offer custom-designed herbal medications for our patients who would like to use them instead of, or in conjunction with prescription medications.
HOW DO I MAINTAIN ONCE I'VE LOST THE WEIGHT?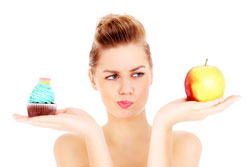 It's important to remember that for many people being overweight is a chronic, relapsing problem. Once you have reached your goal weight it's time to focus on a lifestyle and food plan that will help you keep the weight off.

The variety and quantity of food people eat in maintenance is satisfying and filling. Unless you go back to those old bad habits, there's no reason you should regain your weight. We will continue to see you in the office for periodic visits to help you maintain those good habits you learned in the weight loss phase. If your weight starts to drift up we intervene before things get out of hand.
Remember, this is a chronic, relapsing problem unless you continue to watch those issues that got you into trouble in the first place! We are here to help you for the long-term.

We offer a life-time maintenance program to help you stay focused on the issues that are critical for you, to help keep you from gaining that weight back.

For our patients who wish to follow a completely "natural" approach to weight loss, we offer custom formulated herbal treatments in addition to dietary plans that will fit your needs.